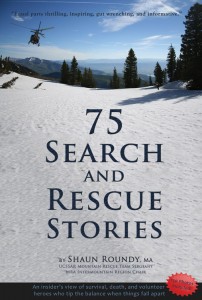 75 Search and Rescue Stories is a brand new book that tells many of the most memorable search and rescue stories from the past dozen years on one of the world's best search and rescue teams. 150 scenic and action-packed photos complete your sneak peek into the world of mountain, river, lake, cave and urban rescue.
With Utah County's backdrop of extreme terrain – striking mountains, tall cliffs, endless trails, deep caves, raging rivers, and a 150-square-mile shallow lake, these stories provide an insider's view of the volunteer heroes on call 24/7/365 who leave work, family, friends, and comfortable beds at all hours, in all types of weather, to drive, ride, hike, climb and crawl for miles to save strangers who they will probably never see again.
Included are many missions which received national attention including two Nutty Putty Cave rescues, the Aspen Grove avalanche, Range Creek Canyon, Elizabeth Smart, and Camille Cleverly. Get behind-the-scenes glimpses never before available.
Written by author, Utah Valley University writing instructor, Utah County Sheriff Search and Rescue Mountain Rescue Team Sergeant, Mountain Rescue Association Intermountain Region Chair, and 12-year SAR veteran Shaun Roundy. Shaun's wealth of experience delivers vivid descriptions and moving commentary that will change the way you view your local Search and Rescue volunteers.
Order your copy of this exciting book now:
A portion of sales proceeds supports volunteer Search and Rescue.
Thank you for your support!
Click "Add to Cart", then click the "Google Checkout" button under "View Cart" to complete your order.
Or checkout with PayPal – you don't even need a PayPal account to order securely with your credit card! Just click the Gold "Add to Cart" button.
"An insider's view of survival, death, and volunteer heroes who tip the balance when things fall apart."
"Equal parts thrilling, inspiring, gut-wrenching, and informative."
"This is the best rescue book by far that I've ever read." – author Jules Harrell in the Mountain Rescue Association's quarterly publication, the Meridian.
75 Search and Rescue Stories is now available at the following locations:
Hansen Mountaineering at 1700 N. State in Orem
Mountain Works next to the Quarry and Movies 8 on University Parkway in Provo
4 Responses to "Rescue Stories"
Leave a Comment