Jun 24 2011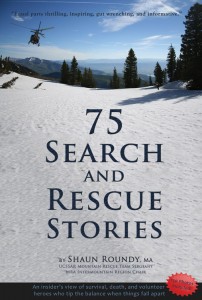 UCSSAR.org typically only posts a few minor details of the 80-100 rescue missions SAR performs each year. If you'd like to hear these stories in great detail, complete with thorough explanations of how the organization functions and how it feels to be a member of one of the world's best and busiest volunteer rescue teams, then you'll want to pick up a copy of the new book written by author, UVU writing instructor, and Utah County SAR team member Shaun Roundy.
75 Search and Rescue Stories comes complete with 150 photos and shares many of the most memorable rescue missions from the past dozen years. Many stories are intense, some will make you laugh, and others end in tragedy. Discover how SAR volunteers cope with the emotional burdens of the trauma they willingly face on a regular basis.
A portion of the $14.79 cover price supports volunteer search and rescue. Show your support to the selfless heroes who annually donate thousands of hours and thousands of dollars of their own money to rescue strangers on the worst day of their lives by ordering your copy today.
Like the book's Facebook page to get periodic SAR updates and exciting rescue photos on your wall:
4 Responses to "75 Search and Rescue Stories"
Here's an interview about the book from Fox13 last Saturday:

http://www.fox13now.com/news/kstu-search-and-rescue-new-book-tells-of-search-and-rescue-experiences-20110723,0,3764674.story

#

Scott

on 30 Jul 2011 at 5:17 pm

Excellent book, highly enjoyable and worth twice the price! Thank you for getting this out there. Everyone in Utah County should read this. You guys are amazing.

Shaun, great book. Im just about done with it. We are starting a search and recue unit in Corpus Christi, TX, and that was the reason I cam across your book. I have enjoyed it and will ask others to purchase it so they get the same benefits I did while reading it.

Thanks, Anthony, and good for you for starting your team! Best wishes with that, and it's rewarding to know that our team's experience can help yours understand some of the rewards and challenges you will surely encounter.
Leave a Comment