Meet Your Utah County Sheriff Search and Rescue Volunteer Team
Utah County's varied topography – tall mountains, steep cliffs, endless trails, deep caves, swift rivers, vast lakes – creates a natural paradise for outdoors enthusiasts of all kinds.
Until something goes wrong.
Changing weather conditions can lead to disorientation, hypothermia, and other dangers. Four-foot waves can whip up in minutes on Utah Lake. Vehicles can roll over or get stuck.  Ankles can twist or break. Children can wander away and get lost. Hikers can suddenly find themselves in the middle of steep cliffs with no way up or down. Accidents of all types can turn a fun evening outing into a life-threatening ordeal.
That's when it's nice to know that you have your very own highly-skilled rescue team at your service.
Not only does your local Search and Rescue team respond at all hours of the day and night when you need them, in all seasons and all types of dangerous terrain, but it does so at no charge.
Nearly all of the costs incurred in a rescue are paid from the pockets of the dedicated volunteers who make up your team. We purchase our own gear, pay for our gas, and take off time from work and away from our families for regular training and emergencies when you need us.
Why?
Perhaps our perspective was best expressed by Lt. Tom Hodgson, our Sheriff department liaison. As we set out one night to find a lost child, he put it this way: "Every child is our child."
We invite you to get acquainted with your local SAR team on this web page, read about recent and classic rescues, learn valuable outdoor safety information, and if you are able and willing, apply to join us or donate to support our efforts. Your generous donations save lives!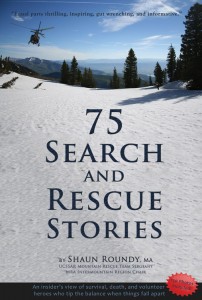 Also check out our new book, 75 Search and Rescue Stories: an insider's view of survival, death, and volunteer heroes who tip the balance when things fall apart.
Utah Valley University writing instructor, 12-year SAR member, and Mountain Rescue Team Sergeant Shaun Roundy tells 75 of the most memorable Utah County rescues over the past dozen years in intimate detail.
Find out for yourself what these volunteers experience as they leave home, work, and their cozy beds at all hours of day and night, in all seasons and weather conditions, on mountains, cliffs, rivers, lakes and caves, on a moment's notice, to rescue lost or injured strangers on the worst day of their lives. Support your local SAR volunteers! Order your copy today!